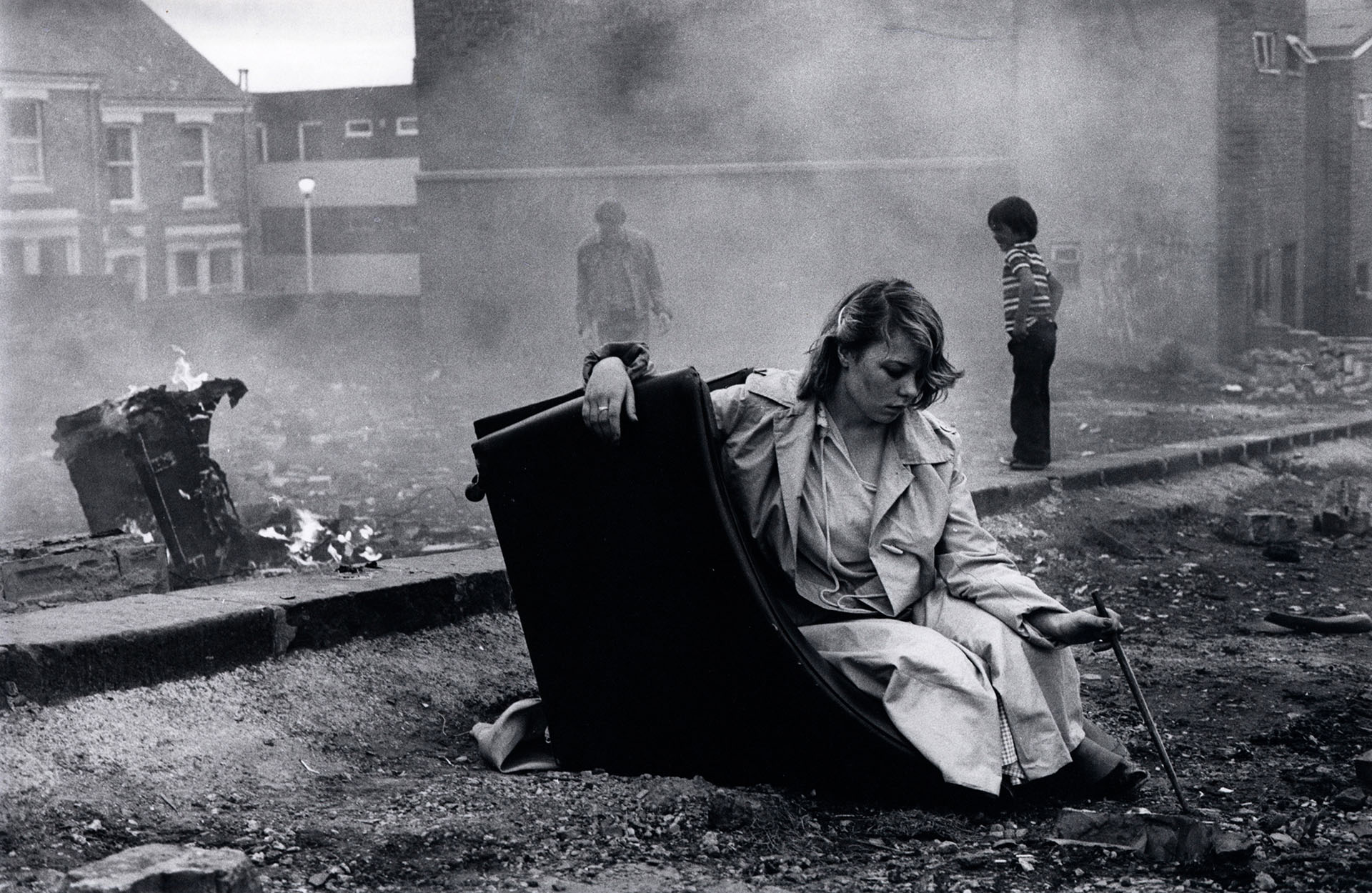 Tish Murtha at The Photographers Gallery
Photograph by Tish Murtha
Tim Adams of The Guardian features the work of photographer Trish Murtha in 'The Big Picture' section of the newspaper's website. This coincides with an exhibition of her work at The Photographers Gallery; Tish Murtha: Works 1976 – 1991 from 15th June to 14th October 2018.
This work from this photographer, that I had never heard of, really impresses me and takes me back to the early 1980s when things looked very different. It was a time of mass unemployment across most of the country, but more so in the industrial and traditional manufacturing areas of Britain. During some of this time I was doing an engineering apprenticeship and studying 'day release' at a Tertiary college at Crosskeys in South Wales. When we started in 1979 the class was full of about 35 young men, but by the time we finished in 1982 there were only 5 of us left, the rest had been made redundant as many of their employers were connected with the mining and steel industry in Wales.
Trish had the good fortune to study in South Wales at the Newport School of Documentary Photography under David Hurn, but clearly it was her passion and vision that gives us this body of work.
I'll be heading to The Photographers Gallery next month and have ordered a book produced by her daughter Ella called 'Youth Unemployment' to get a head start.
---
'In 1976, Tish Murtha, the third of 10 children of Irish descent, left her native north-east to study photography at Newport College of Art in south Wales. She returned two years later to train her camera on the streets on which she had grown up. Murtha, who her daughter, Ella, recalls as "spiky haired, and in baseball boots", took this photograph in 1980 on the council estate of Elswick in Newcastle, while she was on a job training scheme for the unemployed.
No bomb had recently fallen on Kenilworth Road in Elswick, but it might as well have done. In just over a year of Margaret Thatcher's government, a million manufacturing jobs had been lost; the west end of Newcastle was among the places worst hit. When Murtha's pictures first appeared, her MP used them in parliament as evidence of the disturbing reality of life for those who had left school with no hope of work. The girl on the upturned chair, apparently sinking beneath the smoky rubble of her life, is Karen Lafferty; her boyfriend at the time, "Robbo", appears in other photographs in the series, including one in which he lies on the pavement, under graffiti reading "Cops Piss Off".
Though she never stopped taking pictures, Murtha published no books of photography in her lifetime. Her daughter has been archiving her mother's pictures since Tish died suddenly aged 57, five years ago. Ella used Kickstarter to fund a book of the Elswick images, Youth Unemployment, and a retrospective of her work will open at the Photographer's Gallery next month. Her mum, she says, used to refer to the image reproduced here as "Saturday night out on the dole".'
Tim Adams for The Guardian 26-05-18
---
'Tish Murtha: Works 1976 – 1991 is a new exhibition which charts the remarkable accomplishments of documentary photographer Tish Murtha (b. South Shields 1956 – d. 2013) and offers a tender and frank perspective on a historic moment of social deprivation and instability in Britain.
The exhibition surveys six major bodies of work; Newport Pub (1976/78); Elswick Kids (1978); Juvenile Jazz Bands (1979); Youth Unemployment (1980); London by Night (1983) and Elswick Revisited (1987 – 1991) using both vintage and contemporary prints. In addition, the exhibition will also include personal letters and ephemeral material from the Tish Murtha Archive.
In 1976, aged 20, Tish Murtha left Newcastle upon Tyne to study at the influential School of Documentary Photography at Newport College of Art under the guidance of Magnum photographer David Hurn. The earliest series in this show, Newport Pub, dates from this period – where Murtha photographed the realities of everyday life for the regulars of a typical public house, 'The New Found Out' in a deprived area.
Murtha felt a genuine sense of obligation to the communities of her home in the North East, and had chosen a course of study which would make her a more effective photographer, one who could highlight the social disadvantages that she herself had suffered.
On returning to the North East, Murtha created Elswick Kids, documenting the children playing on her local streets. Though not exhibited at the time, it led to her employment by a government-funded scheme as a Community Photographer by the Side Gallery in Newcastle.
This exhibition includes two bodies of work Murtha produced on the scheme, Juvenile Jazz Bands and Youth Unemployment. Juvenile Jazz Bands documented children's marching bands, which were an important part of life in the North East. Initially made with the backing of the band organisers, Murtha defied their expectations of glamorous images and instead produced critically engaged imagery, focusing on the regimental drills and militaristic nature of the bands. She was also drawn to the impromptu Jazz Bands that sprung up, self-organised by the children who had been rejected from the official troupes and paid them equal attention in the series.
Murtha's interest in unemployed youth grew out of her own experiences and an earlier project she had created in Newcastle for the housing charity Shelter. Made in west Newcastle, Youth Unemployment combines sharp social observation with a lyrical sense of place and form. Murtha witnessed the dereliction of young lives up close and the figures that populate her series were often friends, family and neighbours. These strong personal ties to the subject matter compelled her towards creating work that could help those being offered little assistance in times of mass factory and mine closures. Witnessing government policies beginning to take hold on her community, she used her photography to confront the reality and impact of the political decision making of the day. On the 8th February 1981, Murtha's work was raised as a subject for debate in the House of Commons.
Youth Unemployment is undoubtedly Murtha's most celebrated body of work. The Guardian's photography critic Sean O'Hagan wrote: "There is much grittiness and poverty on display here… , too, and, everywhere you look, class rears its divisive head. Tish Murtha's black-and-white portrait of a couple lounging on a bed, watched from an adjacent cot by their curious child, is a study in enervation . . . [it] was taken in 1980. It could, though, be 1930."
After the Youth Unemployment exhibition in 1981, Murtha moved to London where she was commissioned by The Photographers' Gallery to create a series on the sex industry in Soho for the group exhibition London by Night (1983). The work paired Murtha's photographs with texts by her collaborator Karen Leslie who worked as a dancer and a stripper. Together the text and photographs still stand as a powerful critique of the sex trade.
The final series in the exhibition, Elswick Revisted touches on racism and the impact of increasing cultural diversity in the area she knew so well. As with all of her photography, the series is an impassioned investigation into the lived reality of political policies, living conditions and communities struggling to survive in austere and transitional times. Parallels to contemporary living conditions, austerity politics and growing social inequality, bring a timely urgency to viewing Murtha's work.'
Exhibition Information
Mon – Sat: 10.00 – 18.00
Thu: 10.00 – 20.00 during exhibitions
Sun: 11.00 – 18.00
16 – 18 Ramillies Street, London W1F 7LW
Nearest Tube: Oxford Circus
Admission to Exhibitions
Free admission before 12.00 every day
Exhibition Day Pass £4 (£2.50 concessions)
Advance Online Booking £2.50
---
Further reading:
Alex Jackson for The BJP (British Journal of Photography) wrote this article on 02/05/18 about Tish Murtha's work 'Deprivation in Thatcherite Britain with Tish Murtha's Youth Unemployment'
'Amidst the widespread economic changes in the late 70s and 80s, Tish Murtha documented the lives of those living in extreme poverty in the north of England. This article was first published on 24 May 2017
"My impression is of a whole generation thrown on the scrapheap, yet still making the best of what they have," says Ella Murtha of Youth Unemployment, the series shot by her mother, Tish Murtha, over a few years from 1979 in Newcastle.
"I see a great bunch of kids, who may not have much in the way of material possessions, but who are rich in the fact that they have each other. The sense of community and friendship is strong as they suffer the misery of debilitating boredom together, and my mam documented their attempts to alleviate it.
"
Murtha's images record a time of great change in Newcastle, a city that had been an industrial powerhouse but which was experiencing mass closures of factories and mines, and spiralling unemployment as a result. In the vacuum young adults found few opportunities, and faced severe poverty not experienced by their southern counterparts. Deprivation was an everyday fact of life and in that they were not alone, with youngsters in cities from Manchester to Glasgow, Birmingham to Liverpool feeling the effects of a similarly rapid and debilitating transformation.
"The whole work force was affected by the economic recession, but the problem of youth unemployment was very new and the problems associated with it were manifesting in a new way," explains Ella of the turbulent economic time.
These financial difficulties were something to which Tish Murtha was particularly sensitive. The third of 10 children, she was born in South Shields in 1956 and left school at 16, selling hot dogs and working in a petrol station to support herself. After enrolling on a night photography course, Tish decided she wanted to become a photographer, and was offered a place at the prestigious School of Documentary Photography at the University of Wales under the guidance of Magnum photographer David Hurn. Images became the way she could express the dissatisfaction she saw all around throughout the Thatcher era.
"She believed that photography was an important form of visual communication that could stimulate discussions about real-life situations and captured accurate records of the world we live in. She was trying to force people to look at the truth and learn from it," explains Ella.
Tish's images capture a raw picture of the struggles faced by the youth at the time. She would often photograph her family, friends and neighbours – people she spent time with every day, and whose struggles she shared. Capturing candid shots of youngsters on the streets, playing cards, building dens and fire, or causing mischief came naturally, because the subjects trusted her.
"She loved to photograph people; she always spent a lot of time talking and listening, and was genuinely interested in them. Growing up we couldn't go anywhere without her befriending randoms," laughs Ella fondly.
Taking hundreds of photographs over just a few years, the collection is all-encompassing – yet when Tish died of a brain aneurysm in 2013, she had never released a photobook. Now her daughter is creating one in her stead. Using old notes and documents Ella brought the publication to life, creating a Kickstarter page and finding support from across the country. The Kickstarter also rapidly raised enough money to publish – something that Tish herself would probably never have done.
"Unfortunately my mam could be her own worst enemy, and would never have asked for help," says Ella. "She was very 'old school' – we never had a house phone, she didn't do the internet and she wouldn't have an 'email number'. She had really wanted to renew interest in her work as a documentary photographer, but her fear of the internet stopped her."
"I have chosen 70 images for the book," Ella continues. "I have all of my mam's rough notes from the time she was printing up. She would use notebooks, the backs of contact sheets, old envelopes, basically anything to hand to jot down her thoughts. It was still hard to narrow it down to the 70, but I felt guided by her throughout the process."
And although the photographs were taken almost 40 years ago, Ella believes that they are as socially and culturally relevant as ever, particularly after the 2007/08 financial crisis. Looking back over the images, she finds a powerful story for today's politicians and youth – and a warning.
"Things may look different now, but her words and images are still as relevant," she says. "Only this time there isn't the same community spirit, the kids will be sat inside on their smartphones, putting them at further risk of alienation and depression."
But perhaps the most poignant and prophetic words come from the accompanying essay written by Tish Murtha herself, when exhibiting the images at Newcastle's Side Gallery in 1981: "It must never be forgotten that there are barbaric and reactionary forces in our society, who while having no intrinsic appeal to youth themselves, will not be slow to make political capital from an embittered youth, should the labour movement fail to give their search for new social, economic and political values a positive and sustained direction."
Youth Unemployment was published by Bluecoat Press in October 2017, priced £19 www.tishmurtha.co.uk The Photographers' Gallery is showing a large exhibition of Tish Murtha's work, including Youth Unemployment, from 15 June – 14 October, Tish Murtha: Works 1976 – 1991 https://thephotographersgallery.org.uk/whats-on/exhibition/tish-murtha-works-1976-1991'
---
https://christopherpreece.com/wp-content/uploads/2018/05/Trish_Murtha_Karen_on_overturned_chair.jpg
1250
1920
Chris
https://christopherpreece.com/wp-content/uploads/2023/08/christopher_preece_photography-2.png
Chris
2018-05-30 10:19:06
2019-01-24 11:35:29
Tish Murtha at The Photographers Gallery